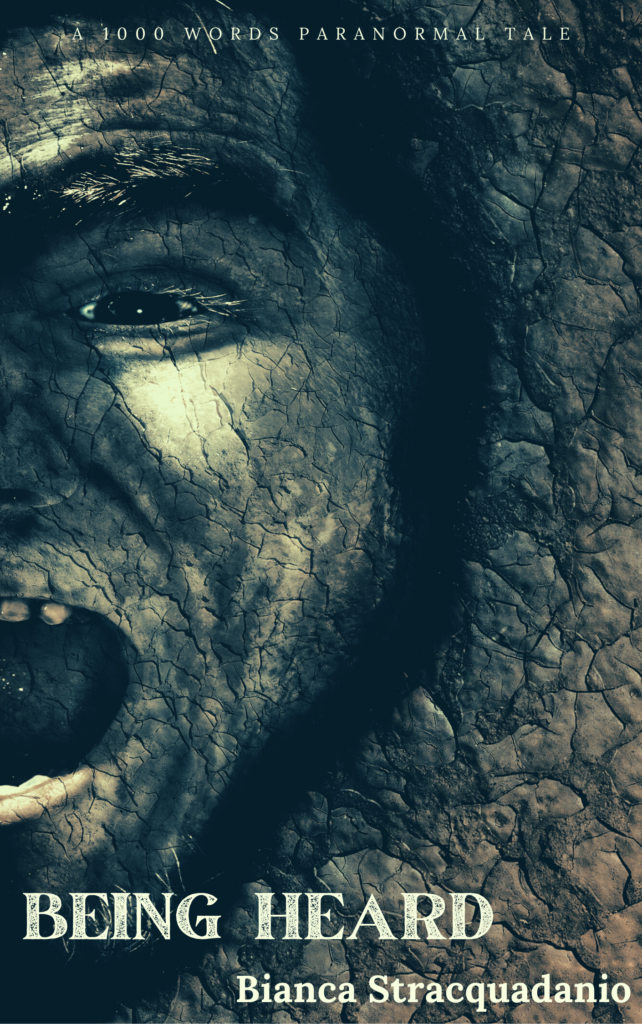 Dominic woke to an absolute silence and darkness. The ground covered with uneven stones poked at his back and hands when he tried to push himself to a sitting position.
The last thing he remembered was the cottage wooden door imploding while he was trying to convince her to escape through the back door.
"Sol…" he whispered, "are you there?" He knew that, if she wasn't by him, he would never hear his whisper. "Sol, babe…where are you?" He tried a little harder, but only silence met his voice. Sol, his mate, was partially deaf after a brutal beating she had to endure when, at 15, her sister told her conservative religious parents that she could see when someone was going to die.
When Do tried to remember how they ended up here, anything, all he found was a silence, as uncomfortable as the one surrounding him. What the hell happened to them? It was their first day as a married couple, mere hours after they took each other's virginity, and they were both dressed and preparing breakfast when a shiver zapped down his spine along with a screaming sense of danger. Their first night together was more than he could ever imagined, they had been waiting for each other since they were 15. He expected that they, finally, coming together would be good, but nothing could have prepared him for the tentative touches, the warmth of her mouth and the sweetness of her coming on his tongue and, later into the night, on his cock.
He put both hands on the ground so he could try to get up, being lost in the darkness was messing with his balance, but a sharp stone pressed against his palm when he pushed to stand causing him to hiss just when a cry echoed his pain in the distance.
He'd recognize that scream anywhere. Sol was here too, but where could she be and how would he find her if he couldn't see and she couldn't hear him from afar? He had to think. Dominic shook his head and extended his arms, trying to feel for a wall or something that would clue him on where he was.
He scraped his hand against an irregular stone on what felt like a wall and he heard Sol scream at the same moment that he winced. Could it be that she was feeling his pain through the bond? Memories of the past flooded his mind.
" Can I tell you a secret, Do? Do you promise that you won't judge me for it?"

He could remember, clearly, the day that she told him that she could feel when someone that she knew was about to die. It was the day that an accident almost killed his baby brother. She had told him her secret and saved his brother. If he was already half in love with her, now he knew that he would treasure her like a queen if she let him. The vulnerability and the wisdom in her eyes were mesmerizing and he was a possessive guy, even at the age of 16.
Little did they know that her older sister heard her and told everything to their parents. They tried to "beat the demons out of her" while he was just in time to save his brother. He didn't protect her that horrible afternoon but he found her left for dead and nursed her back to life. He would never forgive himself for the partial loss of her hearing but no one touched a single strand of her hair after that.
"Dominic, why have you never kissed me?" She asked during a stormy night after she was fully recovered.
"Because you are too good for me, Sol. But I am a greedy bastard and I know that when I kiss you I won't stop at your mouth. I'm going to kiss you all over and you have to be ready to be mine."
She made him wait until she was 18, age enough to be out of the control of her family, even though they didn't know that she had survived the abuse. Waiting was a sweet torture but by then, all he wanted was to tell the world that she was his, forever.
"Sol, honey, can you hear me?" Nothing… not even the echo of his voice. He kept stumbling forward in the dark until reaching a dead end that forced him to turn left. It felt like a labyrinth. He tripped and fell, face first, into the dirt floor but he pushed himself back up and started walking faster until the wall gave way to an opening and his hand got caught against another edge making him bleed and he heard Sol screams. Something clicked inside his head, he pressed his palm against the stone wall and felt the shard break the skin and his wife screamed again.
"Come back for me, please, Do, your place is here with me!"
He sprinted in the direction of her voice, as some loose stones rolled away, kicked by his feet, so he crouched down and searched for one with an edge sharp enough to hurt. It was the only way that he could continue following her voice. He pressed the stone on the open cut and he heard her again, she sounded nearer now so he picked up his pace. He didn't know if his eyes were adjusting to the darkness or if his lion was slowly coming back.
Their wedding had been a fast and intimate affair, nothing and nobody was stopping him from finally claiming her. She looked perfect with flowers in her hair and a flowy white dress that belonged to his mother. She was mesmerizing and she was all his. Their first kiss was at the city hall but all their other firsts were at the cottage that he built for them in his family's farm. Far enough from the main house that no one could hear or interrupt them.
Another blow, another scream. He could hear her closer now and his breathing was getting louder. He was probably leaving a blood trail but he didnt care. The wall ended and he realized that he was in an open space. He started searching for another wall when he touched something soft and warm, he grabbed with all his might.
"Sol?"
"Dominic? Oh my, Do!"
He pulled her hand, trying to bring her against his chest. He extended his other hand and touched her wet face, probably from the tears that he could hear in her voice, he felt the cotton sheets beneath him, felt her body shivering. He hated that she was suffering when he just promised to care for her, finding her mouth, he started kissing her thoroughly. She stilled for a moment and then kissed him with so much force that he started to feel dizzy from the lack of oxygen.
"Babe, are you OK? Are you hurt?" He asked in between kisses.
"No. I'm ok! But you are hurt!"
"It was on purpose, so you could scream and I could find you."
She kissed him again and he relaxed into her touch. The relief lasted only seconds, as soon as he broke their kiss he felt as if his body started falling in yet another black hole and he heard her voice calling him.
"Dominic, no! Open your eyes for me. Please, my love. Come back to me."
And he would, even as he felt his body falling in the darkness again, even if it meant her becoming hoarse for screaming to guide him back to her, he would feel her body against his again.